Dansko Monsters
Review by Kristine on 1 Jan 2019
review stating Dansko Monsters
My Dansko Monster shoes are amazing , I work at an animal shelter an the water proof shoes are grrreat! Plus walking 8 miles a day these shoes are comfortable and durable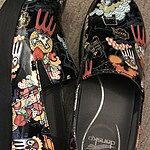 Winona a winner in comfort !
Review by Ruth on 23 Nov 2019
review stating Winona a winner in comfort !
I'm amazed these shoes 'disappeared' and served for 11 hours without a glance of discomfort. Im a California Schools Substutite Teacher, changing roles many times during the day.
They have a roomy foot bed and I a slender foot. These are perfect with a heavier warm sock which I prefer in 40 degree mornings.
Love my new Winonas !
Super comfy
Review by Elena G. on 21 Nov 2019
review stating Super comfy
The toe box is really roomy and the heel is really supporting. So far I'm loving them. Hope they last a while
Perfect for work
Review by Bethany on 22 Oct 2019
review stating Perfect for work
Lightweight and comfortable and squishy cushion perfect for working all day.
I love them my knees
Review by Jean on 10 Jul 2019
review stating I love them my knees
I love them my knees and back love them too after 10 plus hours on my feet are not near as sore